Stormwater Run-off
Ground Water
Dewatering
Dredge Water
Industrial Applications Too!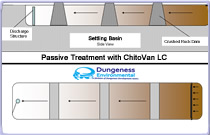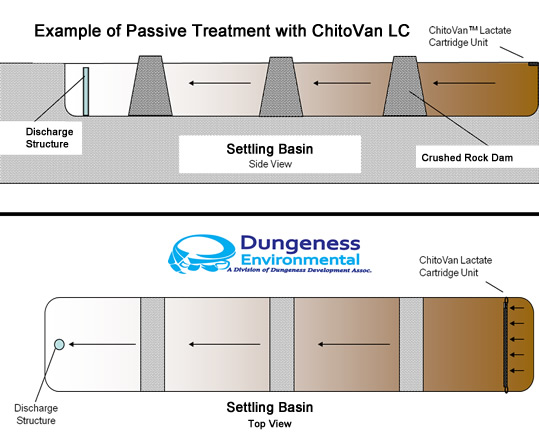 Passive Treatment
This is by far the most cost effective method for the treatment of turbid stormwater. True passive treatment requires no external energy and very little equipment. It is generally the easiest system to install and maintain. The necessary treatment elements are already available on many construction sites. These include: moving water, a settling basin and vegetative filtration. For these sites one only needs to install the chitosan lactate cartridge in the appropriate location and monitor its performance.
With a little planning this method is capable of consistently reducing the turbidity by greater than 90%.
It is best suited for sites that have concentrated flow, adequately sized settling ponds and a natural vegetated area for filtration.
Top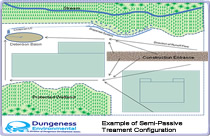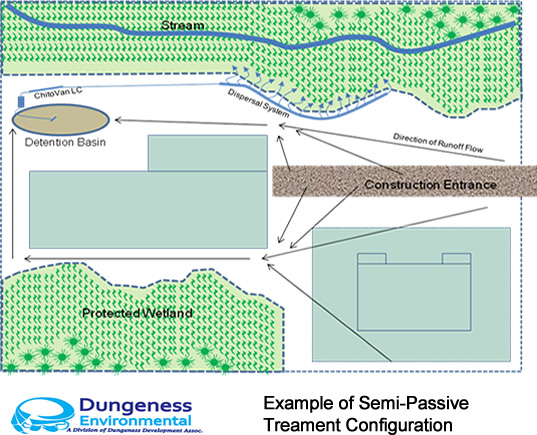 Semi-Passive Treatment
Semi-passive treatment is usually grouped together with purely passive treatment, but technically the difference is that semi-passive treatment utilizes some external energy to move water. Similar to passive treatment, semi-passive treatment is very inexpensive, and easy to install and maintain. Semi-passive treatment is accomplished with a pump, interconnecting plumbing, chitosan lactate cartridge, cartridge applicator, settling basin and filtration.
The chitosan lactate cartridge is typically installed in a lay-flat hose, y-pipe or bag filter housing for easy access and containment.
Compared with purely passive treatment, this method is suited for a wider range of projects because it can be accomplished with a smaller footprint and allows more versatility.
With a little planning and correct installation this method is capable of consistently reducing the turbidity by greater than 95%.
Top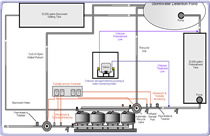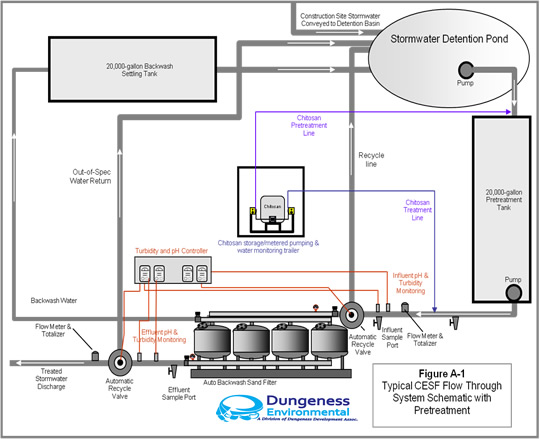 Active Treatment
This is a more aggressive treatment approach which also utilizes chitosan (typically in the liquid chitosan acetate form) to flocculate suspended solids. The floc is separated from water by gravity settling and pressurized sand filtration. It is highly effective at removing suspended solids from turbid stormwater and typically achieves a turbidity reduction of greater than 99 percent.
In comparison with passive treatment, this technique requires significantly more equipment. The key equipment required for CESF treatment includes:
Stormwater retention structure(s)
Interconnecting plumbing
Fittings
Pumps
Control/containment unit
Chitosan delivery system
Monitoring equipment
Sand filter
Power source
Often times chitosan lactate is used in conjunction with active treatment as a pretreatment step instead of liquid chitosan acetate. The advantage of using a dry chitosan lactate flake is that it is easier to transport, frees up chemical storage space, has a longer shelf life and does not require expensive metering pumps.
Many years of research and development have resulted in a general acceptance of ChitoVan Chitosan Acetate for use with CESF in Washington State by the Department of Ecology. It is approved for batch and flow-though configurations where the discharge is to either fresh or marine surface waters. Since acceptance, chitosan treatment has been utilized with great success on hundreds of projects of varying complexity across the nation.