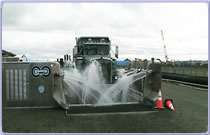 Clear Trax Technology
New technology developed at Dungeness specifically for maintaining continuously clean wash water. Superior performance for washes at landfills, construction sites, military bases, sand & gravel mines and more.
Read More


Contact us by clicking above and tell us about your project. Send us a water sample from your project and have it analyzed for treatability FREE!!!