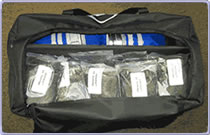 ChitoVan Chitosan Lactate Cartridge Semi-Passive Treatment System Kit
Semi-Passive stormwater treatment with ChitoVan Chitosan Lactate Cartridges is a very simple, effective, economical and low energy way to apply chitosan and clarify dirty water. The Passive Treatment System Kit includes everything needed to start treating water and can easily be integrated into virtually any construction site sediment management plan.
Dungeness Environmental developed the ChitoVan Passive Stormwater Treatment System Kit to reduce the guesswork and ease the burden of system installation and maintenance. The kit includes a field guide which takes you step-by-step through several passive treatment techniques. You select the most practical technique(s) based on your site configuration.
Also in the kit, is ChitoVan Chitosan Lactate Cartridge technology, which flocs (clump together) small suspended sediment particles resulting in fast settling and clean water. The treated stormwater can be further clarified by directing it to a biofiltration area, settling pond, settling tank, dewatering bag, etc.
All you need to do is to master the art of passive treatment and the good news is – it's easy!
Each kit includes:
Eight 36" ChitoVan Chitosan Lactate Cartridges
One 4" Camlock Layflat Applicator
Two 2" to 4" Camlock Adaptors
One Installation Tool
One Durable Weather Resistant Duffel Bag
One Field Guide to Passive Stormwater Treatment
Back to ChitoVan
Contact Sales
425.481.0600Phone:
425.481.5253FAX:
info@dungenessenviro.com