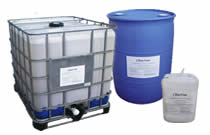 Developed for Active Treatment
ChitoVan Chitosan Acetate is a high quality industrial grade chitosan solution containing the acetate counter-ion and is available in 1% (CA100) and 1.5% (CA150). ChitoVan CA is a clear viscous solution that is very stable (18-month or greater shelf life) in comparison to other flocculents that may degrade rapidly. Chitosan-Enhanced Sand Filtration technology typically utilizes a chitosan acetate solution metered into a pipe to flocculate suspended solids prior to filtration. ChitoVan CA is a powerful flocculent, and when used in CESF systems, is capable of consistently reducing turbidities by more than 95% to less than 10 NTU in almost every case. CESF construction site stormwater treatment with ChitoVan CA100 has been thoroughly tested through the Washington Department of Ecology Technical Review Committee and had been awarded a General Level Use Designation for batch, infiltration and flow-though to all receiving waters of the state.
ChitoVan CA is commonly used to treat stormwater run-off, dewatering water, ground water, waste water, process water, etc. Industries served include: construction, gravel washing, sand and gravel, food waste, mining, environmental remediation, log yard, boat yard, etc.
ChitoVan CA is offered in several volumes including: 5-gallon buckets, 55-gallon drums and 275-gallon totes. In most cases, turbid water (200 - 1000 NTU) requires approximately 10 gallons of ChitoVan 1% to treat 100,000 gallons (1 mg/L).
Back to ChitoVan
Contact Sales
425.481.0600Phone:
425.481.5253FAX:
info@dungenessenviro.com