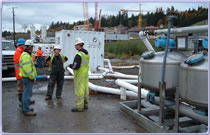 Active Treatment and Certification
To meet the stringent state stormwater run-off standards during construction of the Brightwater Conveyance and Wastewater Treatment Plant Project in Woodinville, WA one active treatment system using 1% ChitoVan Chitosan Acetate was needed.
Dungeness Environmental worked alongside Northwest Construction to gain approval for CESF treatment through Ecology. Dungeness provided a stormwater treatment plan and operator certification to Northwest in addition to supplying the ChitoVan. The treatment plan followed the latest ChitoVan General Use Level Designation and Best Management Practice C250 and was accepted by Ecology.
Northwest Construction performed operations up to 800 gpm, during a significant storm event and has been successful at continuously achieving the 5 NTU discharge limit throughout treatment.
Back to Applications
Contact us by clicking above and tell us about your project. Send us a water sample from your project and have it analyzed for treatability FREE!!!