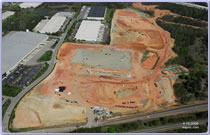 Passive Pre-Treatment with ChitoVan Cartridges Followed by CESF with 1.5% ChitoVan
Two Chitosan-Enhanced Sand Filtration systems where implemented during the construction of a Wal-Mart Superstore and Sam's Club near Raleigh, NC. The treatment train consisted of a series of ponds with conveyance channels that utilized ChitoVan Chitosan Lactate Cartridges for treatment prior to being filtered. Pretreated water was then pumped through the CESF systems and treated with 1.5 % ChitoVan Chitosan Acetate.
Clear Water Compliance Services, LLC of Washington State mobilized the treatment systems and performed operations and maintenance from April to November of 2008. Nearly 11 million gallons of treated stormwater was discharged without a single water quality violation. The effluent turbidity consistently remained below 25 NTU despite repeated hurricane rains and resultant influent turbidities in the thousands of NTUs.
Back to Applications
Contact us by clicking above and tell us about your project. Send us a water sample from your project and have it analyzed for treatability FREE!!!