Urban and Industrial Stormwater Run-off
Process Water
Mining
Dredging
Agriculture
Greywater
Paper Manufacturing
Food Processing
Organic Wastes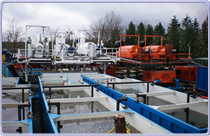 We specialize in treatment solutions integration, because we understand that ChitoVan technology relies on the proper equipment and support to get the job done right. Our systematic approach toward the development of application specific treatment methods not only takes into consideration the system efficacy but also the overall costs and ease of use.
Allow our chemists and water quality professionals to perform a free treatability test on your difficult to treat wastewater to begin the steps toward compliance. Our team will perform an initial lab analysis on your sample and send you a free report summarizing the results.
If pollutants such as sediment, metals, nutrients or organics are of concern many times simple passive or active ChitoVan treatment technology alone will be sufficient to meet discharge standards. In these cases, ChitoVan equipped systems are often also the most cost effective solution. The advantages over traditional wastewater treatment systems include:
Powerful, safe and effective chemistry
Containerized systems reduce cost and installation labor
Proven track record for the removal of sediment, metals and organics
Streamlined permitting process
Reduced power consumption
For wastewater with high levels of pollutants such as organics, metals and hydrocarbons and/or very low discharge concentration requirements, our team utilizes a systematic approach to determine the most efficient treatment method. In our lab, our chemists carefully compare each method to provide our customers with the approach that meets their needs.
Once we show validation of our treatment solution, we work with some of the most respected leaders in the water purification business to get the system on the ground. Ultimately this process gives our customers more choices and saves on their bottom line.
We are dedicated to providing our customers with comprehensive industrial water treatment solutions. From site assessment, to engineering plans, to system installation, we work with our customers every step of the way toward compliance.
Contact Us: Dungeness Environmental Solutions, Inc.
909 SE Everett Mall Way
Suite A119
Everett, WA 98208
Phone: 425.481.0600
Fax: 425.481.5253
info@dungenesssolutions.com