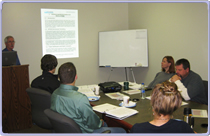 Approved by the Washington State Department of Ecology
Did you know that Ecology routinely performs site checks to verify that operators have their CESF certifications cards? Take the Dungeness Environmental Chitosan-Enhanced Sand Filtration (CESF) training course and become an Ecology Approved certified CESF operator in one week. Taught by erosion and sediment control professionals who developed CESF technology over the last 10 years - you are sure to get the most accurate, practical and up-to-date training available. Our certified trainers have designed, built, installed, operated and optimized dozens of treatment systems across the U.S.
The class consists of all of the elements required by Ecology to become officially certified. It is comprised of both classroom and field sections. In the classroom you will receive 8-hours of training in a traditional classroom setting as well as hands-on training in our research laboratory. The 32-hour field training portion is taught by senior CESF technicians and takes place at a location convenient to those taking the course. If individuals are training to become certified for operations at a specific construction site, this may take place on-site.
To be eligible for this course Ecology requires that the following course prerequisites be met:
Current Ecology-approved certification as a CESCL
Fundamental knowledge of stormwater quality testing procedures and methods for parameters applicable for the region/local.
Fundamental knowledge of high-pressure sand filtration systems
Fundamental knowledge of water pumping and piping systems.
Fundamental knowledge of stormwater discharge regulations and permits for applicable region/local.
Our 8-Hour Classroom Portion Covers:

General Permitting (NPDES)
Stormwater Pollution Prevention Plans (SWPPPs)
Site Specific CESF Approval Process
Best Management Practices
General Use Level Designation
Water Treatment Chemistry Using Chitosan
CESF Treatment System Design Considerations
Operations and Maintenance (Infiltration, Batch and Flow-through)

CESF Components
A Day in the Life of a CESF Operator
Jar Tests
Monitoring and Operations Logs
Bench-top Instrument Calibration
Receiving Water Quality
System Optimization Techniques
pH Adjustment Techniques
Sand-Filter Operation and Maintenance
System Troubleshooting
CESF System Health and Safety
Our 32-Hour Field Portion Covers:

Treatment System Components
Sand-Filter Operation and Maintenance
Pump Operation
System Optimization
Entering Data in the Operations Log
Turbidity and pH Instrument Calibration

Measuring and Recording of Auto/Grab Samples
Chitosan Dose Rate Calibration
Jar Tests
Residual Chitosan Test
Receiving Water Quality
Freeze Protection
Back to Applications
Operations and Maintenance Manuals
Become familiar with active stormwater treatment. Request a Chitosan Enhanced Sand Filtration Operations and Maintenance Manuel.
A beginners guide to the art of passive treatment. Request one today and get started treating water tomorrow.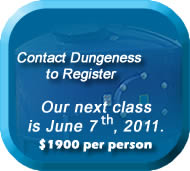 Contact Us: Dungeness Environmental Solutions, Inc.
909 SE Everett Mall Way
Suite A119
Everett, WA 98208
Phone: 425.481.0600
Fax: 425.481.5253
info@dungenesssolutions.com