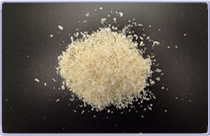 Crab and Shrimp Chitosan
ChitoVan Chitosan Flake is a high quality industrial grade chitosan suitable for water clarification, metals adsorption, oil and grease emulsification, seed coatings, food waste binding, etc. It is an off white, opaque, solid flake material derived from crab and shrimp shell. It is typically dissolved in acidic solutions. It does not dissolve in water. Please contact us for more information.
Dungeness Environmental has other chitosan grades available upon request. We can help you choose the chitosan that is best for your application. In addition to water purification, our team has experience in the development of chitosan products for hemostasis, anti-microbial, food wastes binding, dietary supplements, cosmetics, etc.
Back to ChitoVan
Contact Sales
425.481.0600Phone:
425.481.5253FAX:
info@dungenessenviro.com